The Value of Professional Services Automation
Professional Services Automation solutions can drive significant operational performance improvements to any delivery organization. Nearly every critical KPI can benefit from improved automation. Ranging from better project performance and increased staff leverage to improved billable utilization. A couple of points of utilization improvement for a 250 person organization can bring $1M to the bottom line. This is more than enough justification for action.
With a complex array of software solutions available to address these needs, the average company must invest substantial time and effort finding the right answer. RTM Consulting can assist your company with its broad range of services that span the entire decision and deployment life cycle.
PSA Strategy Services (Strategy, Business Case and Vendor Selection)
Companies know there is a need for improved automation, but how do you get started? RTM Consulting can assist your company in assessing their current automation infrastructure and developing a high level strategy and direction. From this, we can help you develop a sensible business case (and ROI) that quantifies the value that will come with transformative automation against the estimated time and effort to complete the work. Finally, our team can assist you in the time consuming, but critical, process of selecting a PSA vendor. By leveraging our unique inventory of PSA resources, our team can assist with requirements definition, RFP management and final vendor selection. Our approach can help your company weigh the advantages and disadvantages of leading PSA providers in relation to your specific goals, challenges and IT environment.
PSA Implementation Services
RTM Consulting can provide a wide range of services to address all aspects of a PSA implementation. Our Client Implementation Services support project activities related to the solution installation. We can assist companies with project management, integration and change management to ensure the implementation is a success from a people, process and technology perspective. For specific PSA solutions, our consultants are trained to provide Solution Implementation Services, driving the requirements definition, solution design, configuration and deployment of the chosen PSA application.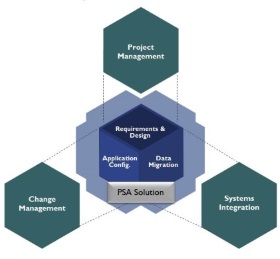 PSA Optimization Services
In many cases, companies are simply not getting the most value from their PSA investment. This can be attributable to many factors, but typically the issues lie in the lack of proper business process alignment, inadequate integration and/or sub-optimal use and adoption of the PSA application by the organization. RTM Consulting can assess your company's current situation and assist you in a course of action to drive greater value realization of your investment.
Why RTM Consulting?
RTM Consulting combines its industry leading professional and consulting services domain and process knowledge with hands on experience working with and implementing many of the leading PSA vendors. Our team has direct experience working with:
Changepoint
FinancialForce
Kimble Applications
OpenAir (NetSuite)
Projector
SAP
Tenrox (Upland Software)
RTM Consulting has assisted many clients in various stages of PS automation. We bring this experience, along with numerous tools and accelerators, to improve the speed and quality of our engagements.
Contact RTM Consulting to gain access to our insights and experience with this critical aspect of running your business. For a downloadable brochure about our PSA Consulting Practice click here.