The Challenge
Workforce Management (WFM) is all about getting the right resources in the right place at the right time. WFM assists with the process of getting agents on the phones faster through forecasting, scheduling and understanding your customer's demands. A successful WFM practice will assist in getting the most out of your team. Workforce Management is not an easy task for most companies, specifically in global, multi-site environments. It starts with understanding the needs of your customers. Are they willing to accept missing an SLA in the morning because of call spikes? Or could that potential miss cause a customer to leave? A highly disciplined process, with the right supporting technology, is required to manage human capital in the most effective and efficient manner possible.
Our Solution and Approach
RTM Consulting introduced Just-in-Time Resourcing® (JITR) solutions to help companies with the complex task of getting the right person in the right place at the right time. Just-in-Time Resourcing® is our brand for human capital management services. We help companies build the right set of capabilities to accomplish the most efficient use of human capital for professional, consulting and support services operations. In call centers, human capital costs (agents) are typically a majority of your total costs, so, a proper WFM methodology such as JITR is vital.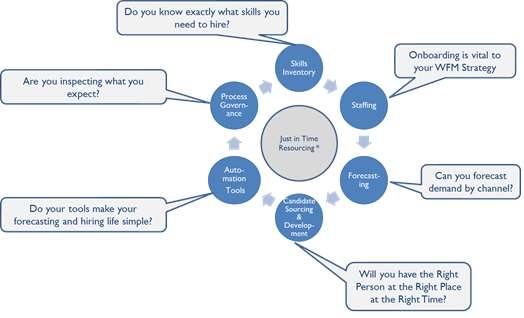 Consulting Services Examples
Onboarding
How long does it take from the initial interview until an agent is fully productive on the phone? How much is it worth to cut that time by X percentage? What is the value to your customers of getting these agents in seats and productive faster? We can help create or modify an entire repeatable program to reduce the time needed to keep at required staffing levels – not above or below.
Global Schedule Optimization/Follow the Sun
Are you able to use agents, sitting idle after hours in one region, to support calls during peak times in another? We can help with your staffing and WFM plan to get the most from all agents, regardless of region.
After Hours Utilization
Like most companies, do you have analysts sitting idle after hours "just in case?" Many companies struggle with very low utilization of after hours analysts. We can help put processes in place to keep these analysts utilized, helping you optimize their time.
Channel Scheduling
Do you struggle with the balance of scheduling agents for phone, chat, email and social support? Do your agents handle multiple channels? Do they prioritize the channels they monitor? RTM Consulting can review your scheduling practices, recommend changes to optimize that practice and lead programs to reinvent the scheduling and optimization of your agents.
Summary
Our Workforce Management practice can review your existing WFM operation, make recommendations for improvement and drive these initiatives to completion. RTM Consulting will assess your environment versus our proven framework that will help you deliver services required to build loyalty and grow revenue at the lowest possible cost.
Contact RTM Consulting to gain access to our insights and experience with this critical aspect of running your business.