The Challenge
The effort to effectively and adequately redefine processes, implement automation, and change the behavior of your team for managing projects and portfolios takes time. Services leaders, however, often need results in weeks, not months. To address this, RTM Consulting has developed PMO QuickStart that combines the assessment phase activities with targeted implementation phase outcomes to accelerate your speed-to-value.
Our Approach
RTM Consulting provides an accelerated time to benefit by combining its Assess & Architect phase with our implementation phase to provide a long term framework that offers real-time working solutions in the shortest timeframe possible.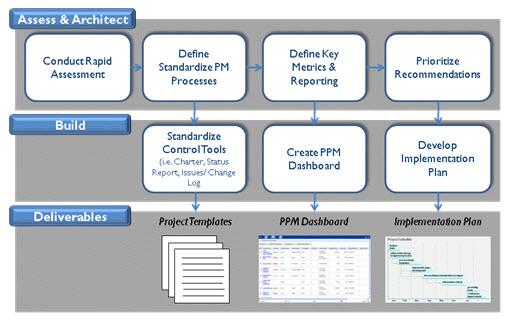 Assess & Architect
Root causes for poor project management and governance can originate with the most basic activities at the project level or be rooted in more complex areas like the governance process of your organization's portfolio. RTM Consulting conducts a point-by-point assessment of all dimensions of your portfolio and project management. By comparing your documented practices with the leading industry practices, we can create an improvement framework that is tailored for your organization.
Build
The key benefit of the PMO QuickStart is the ability to have workable tools in place as quickly as possible. RTM Consulting believes that the most impactful of all tools are 1) Standardized Control Tools and 2) a PPM Dashboard. With the PMO QuickStart, these tools are combined to rapidly accelerate the improvement of project management and governance within your organization.