The Challenge
Recent years have been tough for technology hardware companies. Hardware revenues in the industry continue to slide along with margins. During this same period, field services executives know all too often they have been challenged with reducing costs, while maintaining or improving services levels. Stopping the erosion of revenue and margin, and finding ways to grow revenues and simultaneously improving customer service seem nearly impossible.
Meanwhile, the hardware pacesetters in the industry have turned to services as a way to demonstrate greater value and build more of a solutions approach embracing hardware as part of a larger solution. Innovative or advanced Field Services (FS) focused on delivering better customer outcomes are the answer. But the fact is today's FS teams either don't have the budget, the skills, the bandwidth, or all three to make this transition. But there are answers out there!
The Solution
RTM Consulting (RTMC) has developed its Field Services transformation services to help technology companies define, develop, and deliver value-added and outcomes focused FS capabilities required for market success.
By partnering with RTMC, you can accelerate time to value, avoid surprises and unnecessary investments, optimize labor and other support related costs, and achieve the support capability and capacity you need to maintain a competitive edge.
Our Approach
RTM Consulting uses our deep consulting expertise to focus on your specific FS business need(s). We compare and contrast your FS specific need, or even your entire FS operation, with industry best practices and results. Equipped with these valuable insights and our innovative frameworks, RTMC can help you build an appropriate solution to a particular business problem, or an operations-wide business transformation plan to help your FS operation become best in class and accelerate time to value for customers and better results for your company. Our consultants are all previous industry practitioners who bring an experience-based and practical hands-on approach to problem identification and transformation leading to real results.
Our Roadmap to an Outcomes-Focused Solution Provider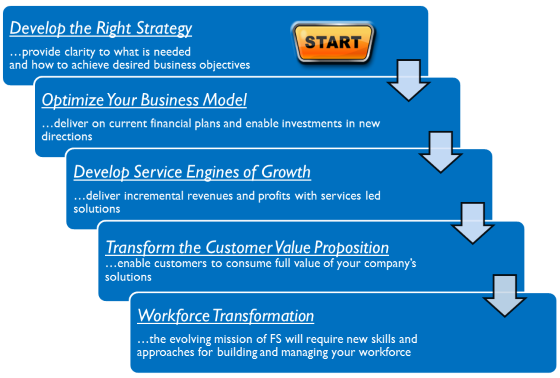 Strategy Consulting
Examples — Using our unique Field Services Framework, we help you:
Determine the right support strategy and develop clear and effective support charters
Create an overall financial model aligned with the field services charter
Help you define how to invest in needed change while becoming more efficient
Identify the game changers like building a flexible workforce, creating revenue growth strategies, or taking remote solutions to a new level, we focus on innovation and creation of competitive advantage
Optimizing your Current Business Model
Investing in field services often means finding better efficiencies to 'free up' opportunities to invest in new strategic directions. Some ways we can help include:
Shift to the Left – our unique approach to optimizing your channels of support. We help you move more of your support from on-site to on-call and on-line.
Cost optimization – whether its labor approaches, flexible workforce models, parts management, vehicle fleet management, first call resolution performance, remote solve needs, or automation support we help you drive inefficiencies out of your support structure while building in better service capabilities. With complete assessments, or specific variability analyses in a particular area, we quickly identify the what, how much, and approach to driving out cost while freeing up investment money for your overall transformation needs.
Develop Services Engines of Growth
Field Services can be a revenue growth driver if we shift our emphasis from break-fix to a focus on customer up-time. Some ways we can help include:
Development of packaged services approaches and capabilities
Shift your messaging and value-proposition to defined outcomes or value-based service offers
Identification of user adoption strategies
Development or refinement of alternative pricing strategies
Transform the Customer Value Proposition
Field services can be sold differently if we shift our emphasis away from traditional break-fix excellence to more value-based and outcomes focused value drivers. Some ways we can help include:
Defining outcomes focused delivery model and messaging
Building FS services adoption into the company's overall solutions strategy
Redefine and better communicate how service excellence is delivered/received.
Workforce Transformation
Field services transformation usually requires different skills, different ways of getting work done. Some ways we can help include:
Building flexible workforce strategies and implementing those strategies
Re-skilling your workforce for solutions based buyers
Gaining better cross-functional alignment necessary in today's matrixed environments
Contact RTM Consulting to gain access to our insights and experience with this critical aspect of running your business. For a downloadable brochure about our Field Services Practice, click here.