Adoption and Optimization Services
System Implementations are almost never a "one and done". Today's software vendors are constantly adding new features and PSOs go through growth and organizational changes requiring continuous improvement.
Diagnose
We leverage process-driven workshops to identify opportunities for improvement. These areas of improvement can come from enablement of new features, process change or training and change management.
Implement
Our experienced consultants help clients implement improvement opportunities identified in our diagnostic offering. We use a multi-step approach where we enable some improvement opportunities in days or weeks.
Train
We offer customized, persona-based training tailored to your specific use cases. We can train your team(s) through a variety of media and delivery options.
Our Adoption and Optimization Services help organizations get the most from their automation investment. Our approach is focused on improving the use and value of the automation through more user awareness, education, and continually aligning business process with the technology.
Solution Diagnostic Offer
Click below to learn more about how RTM Consulting can help your company.
Solution Diagnostic
Our solution diagnostic service is workshop driven and process oriented. The overall objective is to identify solutions for current pain points. These solutions could be addressed by new features, processes or organization improvements, or simply better ways to utilize/optimize your solution.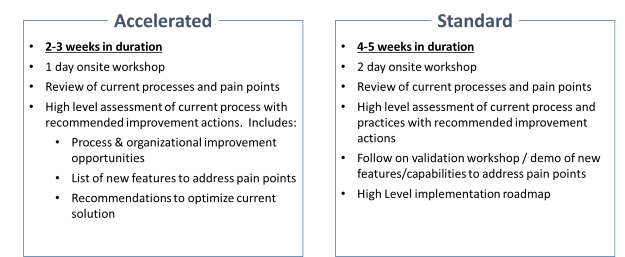 Our Solution Diagnostic service will help organizations get the most from their automation investment and improve the productivity of its users.
Contact RTM Consulting to discuss our adoption and optimization services.