Deployment Services
PS Digital can provide a wide range of services to address all aspects of a PSA implementation. Our Deployment Services support project activities related to the solution installation. We can assist companies with project management, change management, process improvement, and integration to ensure the implementation is a success from a people, process and technology perspective. For some PSA solutions, our consultants are trained to provide specific application configuration services, driving the requirements definition, solution design, configuration and deployment of the chosen PSA application.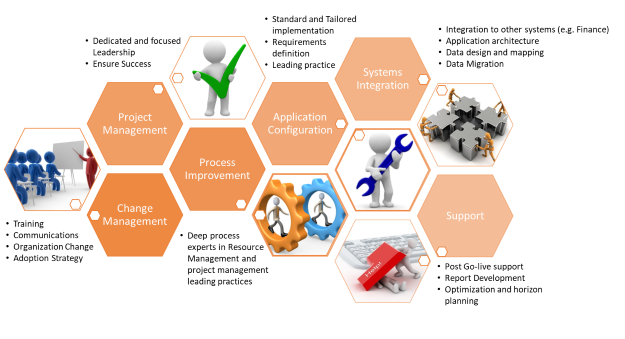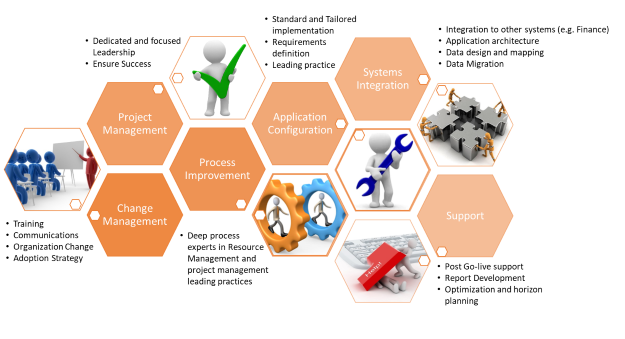 Project and Program Management
PS Technology projects often involve many stakeholders across the organization to include sales, finance, and IT. This requires experienced Project Managers to not only manage the project, schedule and budget, but to also manage and communicate with the various stakeholders. RTM Consulting can help maintain the overall schedule, budget and communication so its customers can remain focused on running the business.
Process Improvement
Most companies do not unlock the benefits of true transformation with a "lift and shift" approach where they simply automate outdated processes. All good solution implementations look for opportunities to automate improved processes. We differentiate our approach to technology by leveraging our deep industry process experience and an understanding our client's end user and what they are trying to achieve.
Change Management
New technology solutions and new processes mean a different way of doing things. This change is sometimes hard and not always well understood by the end users which can impact adoption and inhibit the value. This is where having a change management strategy and a plan in place is imperative and where RTM Consulting can help. Our experienced consultants and implementation approach involve all key stakeholders and end-users early in the process so the right people have a voice throughout the project. Coupled with effective communication plans, this change management approach drives higher solution adoption and helps the organization achieve the business value it desires.
Improving automation and technology is typically not an isolated, or silo'ed event. Applications these days rarely operate as a stand-alone, relying on integration with other applications to provide their greater use and value. RTM Consulting helps customers with the logical and physical integration of applications to achieve the right business process outcome.
Production Support
Oftentimes, the adoption and operation of a new solution requires time and experience. Additionally, many solution implementations take a phased approach where important, but less critical features are backlogged for subsequent solution releases and new reporting is enabled. Our production support offerings help our customers through the first couple weeks or months of operating the new solution, enable new features, build reports and dashboards, continue to train users as needed and/or just provide help and assistance to a super user community that's just understanding how to support a new solution. We can provide this support commercially in a number of different ways ranging from a "bucket of hours" approach to more of a managed services offering.
Our Deployment Services provide organizations with a one-stop-shop for all of your implementation and deployment needs. We are the only true systems integrator for the professional services industry. Our knowledge of the domain, the processes, the people and the technology components are unmatched. This knowledge and experience will reduce overall deployment risk and increase the achievement of the value proposition of the automation investment. Contact RTM Consulting today to discuss our Deployment Services.