Decades of experience in the services industry has helped us formulate curriculums, processes, and approaches to address the professional services training needs of services operators. In short, we offer practical training that your personnel can put into practice fast!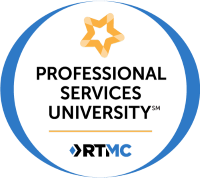 Our 2021 Training Catalog is now available. New to the curriculum this year:
Advanced Resource Management – This course leverages Just-In-Time Resourcing® and the foundational RM competencies developed during the RMCP® certification program to provide participants with next-level development.
Practical Project Management for the Non-Project Manager – Many organizations find themselves asking delivery resources to step in and manage a project. This course is designed to provide a foundational PM competency for resources who are not traditional Project Managers.
Through our innovative PS University we provide your organization the services training your employees need to be successful. On-site, online or on-demand, we have the capabilities to deliver training the way you need it. Download a PDF copy of our 2021 Training Catalog and check out the PS University Curriculum.