The Challenge
Over the last few years, revenues for technology hardware companies have continued to slide along with margins. Field services executives are constantly challenged with reducing costs, while maintaining or improving services levels. As revenue remains stagnant and profit margins decline, technology businesses – specifically hardware companies – need to reexamine their operation and service delivery methods and take steps to squeeze out better financial performance in order to stay viable.
Hardware pacesetters in the industry have turned to services as a way to demonstrate greater value and build more of a solutions approach embracing hardware as part of a larger solution. Innovative or advanced Field Services (FS) focused on delivering better customer outcomes are the answer. But the fact is today's FS teams either don't have the budget, the skills, the bandwidth, or all three to make this transition. But there are answers out there!
The Solution
RTM Consulting (RTMC) has developed its Field Services transformation services to help technology companies define, develop, and deliver value-added and outcomes focused FS capabilities required for market success. By partnering with RTMC, you can accelerate time to value, avoid surprises and unnecessary investments, optimize labor, parts and/or vehicle costs, and achieve the support capability and capacity you need to maintain a competitive edge.
Our Approach to Parts Management – QuickStart!
Field services leaders today have many ways to optimize how they manage parts. The 'big picture' of the parts management universe is shown in the graphic below. One QuickStart approach is to focus initially on parts variability.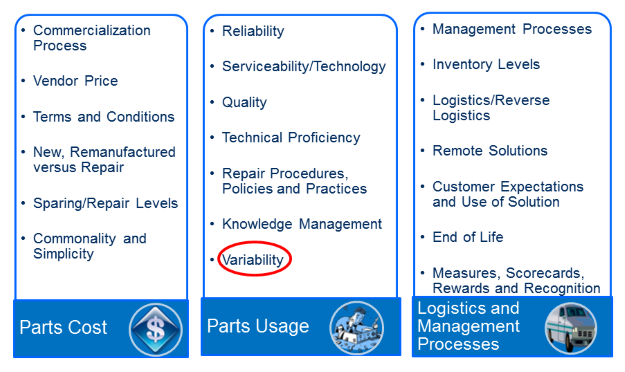 Reducing variability is an overlooked area of parts cost management that can quickly lead to a substantial amount of cost savings. FS leaders, constantly being challenged with thin budgets, can focus on parts variability to help drive economic value to the bottom line. Using lean Six Sigma strategies to assess your current parts 'variability' performance, we identify where the quick hits are to improve on the most poorly performing logical groups in parts performance, and learn from the leaders applying best practices from those.
A more complete, but accelerated look at your parts universe is our QuickStart assess and architecture approach whereby we review your As-Is capabilities, compare current performance and create a gap analysis, architect a To-Be parts management process, and define the execution plan.


Assess As-Is Capabilities
Leverage RTMC's Field Services Framework to assess capabilities across your parts management universe or ecosystem
Review relevant artifacts, reports, data and tools, and gain input from parts management personnel
Compare Performance / Create Gap Analysis
Compare current performance and approach to best practice / best result
Leverage available benchmark data
Create and document a gap analysis
Quantify improvement opportunities
Architect To-Be State
Architect a To-Be parts management process leveraging RTMC best practice processes and frameworks
Define workflows
Recommend needed organizational or technology infrastructure changes
Define Execution Plan
Identify and size transformation efforts
Prioritize improvement initiatives
Make transformation recommendations
Build transformation roadmap and timeline
Identify transformation costs, ROI, and other dependencies
Implement Recommendations
Output from the QuickStart process will define the shortest path to improving parts management performance, overall parts cost and customer service levels
Begin receiving the benefits of the highest priority needs with RTMC expertise and transformative experience
Contact RTM Consulting to learn more about making parts management an important part of your Services business. For a downloadable brochure about our Parts Management QuickStart, click here.