The end of the year provides a perfect opportunity to motivate and re-energize your team for 2022. But we know managing that year end budget can be a challenge. Many organizations are not able to carry left over budget into next year. If you find yourself in a 'use it or lose it' scenario with your training budget we can help.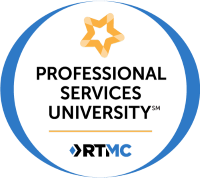 We have developed an innovative approach to address the ongoing learning and development needs of Professional Services Organizations while saving both time and money. PS University is a strategic skills development program dedicated to the development of the PS skills service practitioners need to be successful in today's technology services environment.
Only full life-cycle consulting and PS skills development program on the market
Includes PS specific Learner Paths mapped to typical roles in a consulting or PS organization
PS specific curriculum organized like a college curriculum to support career progression
If you're facing a 'use it or lose it' scenario with your training budget or you want to get a jump start on 2022 plans, check out the professional services curriculum at PS University.