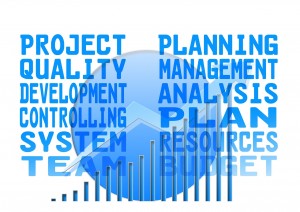 What is the right PMO model for your organization? It depends. No two Professional Service Organizations are exactly the same therefore you need to develop a PMO that meets the specific needs of your organization. There are, however, a couple factors to consider when determining the right strategy for designing your PMO:
Will your PMO house all project management resources or focus primarily on serving as a Center of Expertise (COE)?
Will your PMO's focus be regional or global?
COE vs. Project Manager Organization
In a COE model, your PMO serves as the operational support team for your PSO similar to your finance department or resource management office. The team is usually smaller with "dotted line" reports to project focused delivery teams. The COE model focuses on deepening functional expertise, project quality assurance, and project portfolio governance. The Project Manager Organization model incorporates the responsibilities and functions of the COE in addition to housing all of your project management resources. In this model, you will have a larger team and take on more direct responsibility for the outcomes of all projects in the portfolio in addition to driving improvement of project management practices and execution. Unlike a COE approach, the PM organization will typically have a utilization target for the group and potentially even a P&L responsibility.
There are advantages and disadvantages to both approaches. Based on our experience working with many customers over the past several years, most PSOs adopt the COE model when starting a Project Management Office. This model is generally less disruptive to existing team structures and processes and requires less investment of time and resources to implement. PSOs that leverage the more inclusive Project Manager Organization model generally had the COE model in place first and chose to consolidate all project management to a matrix model during reorganization.
Global vs. Regional
Where does the PMO belong in the organization? Some organizations prefer to start regionally and evolve to a global model. Alternatively, some companies start at the global level with a small team and then look to anchor the PMO in the regions. It is beneficial to have a global PMO to provide standardization and governance across all regions. It is equally valuable to have PMOs function inside the region, closer to the delivery teams. However you get there, the best practice is to have both.
If you are attempting to get your PMO off the ground, a good starting model is a global COE model. If you have existing PMO capabilities, review the factors described above and determine what changes need to be made to make your PMO more effective. It may be time to transition your PMO to a more inclusive model or expand your focus to include regional and global service strategies.