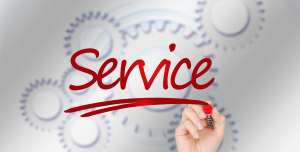 It's easy to see why field services and support services teams find improving first call resolution or first visit resolution to be a high priority. First call resolution or first visit resolution matters! The ability to answer or solve the customer's problems on the first contact or visit is crucial and the data is compelling – do this well and your cost structure will be attractive and your customer service reputation will be strong. Some companies have figured out the right combination of people, process and technology to accomplish superior first call/visit performance, and do it consistently. Unfortunately too many companies have failed to achieve this resulting in poor customer satisfaction, high customer service costs and ultimately negative competitive consequences of their inability to conduct first call resolution / first visit resolution in a manner consistent with client expectations.
Having been on all sides of this important customer service discipline, we put together a paper, First Call/Visit Resolution: Getting It Fixed the First Time, that is an aggregation of those experiences and the most effective approaches we have observed for how to get it right.
>> Download a complimentary copy!
Also, check out our FCR/FVR on-demand webinar and learn how technology and process breakthroughs are changing the way service organizations are achieving superior FCR/FVR performance.